Welcome to Miss Jeanne's Mystery Dinner Theatre!
                 Our Dinner Theatre has not raised the prices in 8 years...
          We want to keep a night out affordable for all that wish to join us.
Let's share some Great Food, Laughter, Music, and create a memory...for all !
~~~~~~~~~~~~~~~~~~~~~~~~~~~~~~~~~~~~~~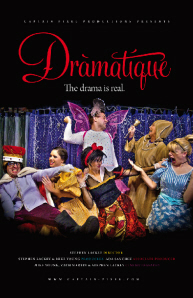 We've kept a lock down on the synopsis and title of our current project for the last six months
because honestly we just weren't sure where the story was going. We knew we were doing a character study but we just didn't have a clue of what that journey was going to actually be and how we'd all come out of it on the other side. The people, the artists, covered in this new film are fascinating, funny, and brilliant people, people we hope to know for many years to come.
So without further ado the name of the film is:
Dramatique

In this film we follow the struggle of a small murder mystery dinner theatre in Nashville, TN
and meet the passionate bunch of actors and singers that put on outrageous shows every
weekend whether it's for 6 or 60 people. The film follows the cast and crew through
overwhelming successful shows and destruction that threatens to rip the entire theatre apart.

They're talented and funny people with stories that will stay with you long after the curtains are drawn. Dinner theatre is a dying art form but these folks won't let it go without one hell of a fight.

The film shoot has wrapped and editing is in full swing. Soon we'll have video clips and a full trailer
prior to the film hitting the film festival circuit throughout 2013 !

~~~~~~~~~~~~~~~~~~~~~~~~~~~~~
NOW SHOWING
Once Upon A Crime



A Rollicking Musical Fairy Tale Farce with a Twist
starring Snow White, Cinderella, and the Fairy Godfather.
One of the Storybook characters gets knocked off,
but ...........WHO - DUN-DID-IT ????


Content copyright 2011. Miss Jeanne's Mystery Dinner Theatre. All rights reserved.